Finding the right pair of sunglasses can not only protect your eyes from UV rays or keep away glare from the sun, but they can also compliment your style and enhance your overall look. The shape of your face plays an important role in finding the perfect style for you. We're going to tell you the best sunglasses for a diamond face and outline some styling tips!
How to Tell If Your Face Is Diamond Shaped
Diamond face shapes are typically narrower at the top and bottom of the face than the middle and have more of an angular look to their jawline. Their widest facial point is the cheekbones with the chin coming to a defined point.
The easiest way to tell if you have a diamond face shape is to snap a selfie-no really! Take a selfie, and draw a line from the center of your hairline to each side of your cheekbones, then down to your chin. Be sure to follow the natural contours of your face shape and not 'force' a shape with the lines. If the resulting shape is a diamond, then bingo, you have your answer! If it's not a diamond, then check out this great article from Cosmopolitan which outlines the best sunglasses for every face shape. 
Are Diamond Face Shapes Rare?
Just like its name, diamond face shapes are indeed the rarest face shape, and often, the most sought after. They often get confused with the heart-shaped face, with the distinguishing feature being the hairline-diamond-shaped faces have a narrower hairline. With high cheekbones and a  narrow jawline and chin, it's often the most desired face shape for women. So much so that cosmetic surgeons are often asked to replicate the face shape of some of the hottest celebrities below to get that ideal angular look.
Celebrity Diamonds
Megan Fox, Rhianna, and Johnny Depp are your celebrity look-alikes when it comes to diamond face shapes. They are often considered to have a perfectly symmetrical face and are the muse for many seeking to highlight they're diamond profile. For those of us unwilling to go under the knife, but still wonder what they would look like with a perfectly symmetrical face, check out the latest app craze, "Face Symmetry."
And for a little perspective, watch this fun video where a dermatologist made a video showing what celebrities would look like if their faces were perfectly symmetrical, using the Face Symmetry app, proving that perfect isn't always beautiful!
The Meaning Behind the Face (Shape)
For those seeking meaning in everything, the shape of one's face is directly linked to your genetics. As such, many claim there is meaning behind your unique face shape and shows a connection to your personality. Does our face shape have great meaning and impact your personality? Let's take a look at the top personality traits found amongst those diamonds.
According to The Stir, people with diamond face shapes tend to be perfectionists and are very detail-oriented. With angular features, many people view those with a diamond shape to be divas; however, a study published in the Association for Psychological Science Journal found the exact opposite. Those with a longer profile were found more difficult to anger and less likely inclined toward aggressive behavior than those in the square category. Who knew?!
How to Choose Sunglasses for a Diamond-Shaped Face
It's all about those cheekbones! The goal in choosing a sunglasses style for those with a diamond-shaped face is all about enhancing those cheekbones. Look for round, oval, aviator, or even wrap-type styles that will bring attention to the natural high points and angles of the face.
Round Sunglasses
The stark contrast of the round shape against an angular face makes round sunglasses a great choice for diamond face shapes. Whether you're going for a circular 'hippie' look, or a more refined Warby Parker vibe, circular frames are your best friend.
Oval Sunglasses
Oval sunglasses are a great choice because as we discussed above, the wide shape of these glasses hit right at the cheekbones. They also help to soften the look of an angular or pointy chin, drawing attention upward to the face.
Wrap Sunglasses
These sporty sunglasses are having a moment, or two. After Balenciaga and Prada made them a major moment in Spring fashion 2019, wrap-around sunglasses have been going strong. The wrap-around silhouette highlights and brings drama to the cheekbones while giving us fun 90s vibes. 
Frame Shapes to Avoid
If you're looking to avoid shapes that don't work well with a diamond-shaped face, then take a look below at ones that don't suit you.
Square: square frames should be avoided as it adds to an already angular face.
Oversized: avoid oversized frames as they make a diamond face look smaller and bunched.
Small: avoid the extreme small frame trends (aka Kourtney Kardashian style) as they tend to make the forehead appear even narrower and cheekbones wider, giving an unbalanced look.
Do Aviators Look Good On Diamond Faces?
While aviators are the classic look loved by many, for those with a diamond shape face look for a pair with a narrower frame and are not too oversized. Remember, the goal is to compliment the high cheekbones and contrast with the narrow chin without overtaking the face. The sunglasses should be the opening act to your look, not the main attraction.
Hairstyle Tips For A Diamond Face?
Just like sunglasses, it's possible to match your hairstyle to your face shape to get an, even more, stand-out look. In order to draw attention upwards to the cheekbones, and distract from a longer profile, use one of the below tips to amp up your look even more.
To add width to the chin: keep hair chin length, or for longer lengths, begin adding face-framing layers at the chin.
Bangs: For those with bangs, cutting them straight across will help to shorten a longer profile
No-Bangs: For those with no bangs and hair of any length, choose a deep side part to distract from the length of the face.
Looking For a Whole New Look?
If you're the bold type and feel like trying a completely new hairstyle, here are a few of the best we've found for diamond face shapes according to celebrity stylists.
Women:
Bob with Side Swept Bangs
Think Eiza Gonzalez. The shorter length frames the face and takes away from the sharp features. If you're not a fan of side swept bangs, then opt for a deep side part in that bob.
Face-Framing Layers with Side Part
For those not willing to part with longer lengths, adding fringe at the chin draws attention to those cheekbones and balances a narrower forehead.
Collar Bone with Curtain Bangs
Curtain bangs are still a thing, and help diamond shapes to widen the forehead with the collar bone length helping to real in the long profile.
Men:
Classic Side Part
George Clooney vibes all day. Not ready to jump into a new fade? Switch up your look by going for a hard side part. This will help to extend the width of the face but won't take away from that angular jawline.
Quiff
Much like a taper fade, the quiff is a trendy hairstyle that features longer hair on top with a medium fade on the sides and back. This hairstyle gives some balance to a shorter forehead and wide cheekbones.
Buzz Cut or Extreme Fade
The shorter the better! For those ready for a dramatic change opt for a true buzz cut or extreme fade on the side to really let all those angular features take center stage.
Final Thoughts on the Best Sunglasses for A Diamond-Shaped Face
When it comes to your look, always opt for a style that you are first and foremost comfortable with. If you find a style that you love that isn't in the above, go ahead and wear them regardless of the frame style! If however, you're looking to optimize that diamond shape for attention-grabbing purposes (we're not judging!), use some of the tips above to grab some frames that highlight your natural contours.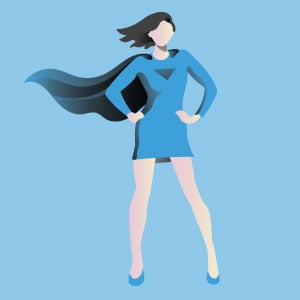 Kristy Mediak is a freelance writer as well as a health, wellness & beauty enthusiast. She is an avid reader with an underlying passion for writing, which she determinedly practices alongside her career in the finance world!