Flat contact lenses are essentially just what they sound like – contacts that fit flat. Contacts are fit to form to the front surface of the eye—the cornea. The cornea can be steep or flat depending on a person's ocular anatomy, so contact lenses have to come in a variety of sizes to fit a person's eye shape.
Flatness or steepness in a patient's cornea can be determined at your eye doctor's office with a piece of equipment called a keratometer or a topographer. 
The term "flat" in relation to a flat base curve should not be confused with a "flat pack" brand of contact lenses. Miru, the brand, makes a brand of contact lenses called the Miru 1 Day Menicon Flat Pack. These lenses are packaged in flat packaging which is why they can be confused easily with flat-fitting contact lenses. 
What Is a Base Curve for Flat Contact Lenses?
Base curve is a term that is used to describe the front surface curvature of the clear front part of the eye, the cornea. The average base curve ranges from 8.4mm-8.6mm. Flatter base curves actually have a higher millimeter value. So a base curve of 8.6mm is actually flatter than a base curve of 8.4 mm.
Flatter base curves that are commercially available range in the 8.7mm-9.0mm range. Patients who have a base curve that is even flatter than this may still fit into soft lenses that can be specially ordered. These patients might also do well in specialty lenses such as gas permeable lenses or scleral lenses.
What You Should Know If You Need Flat Contact Lenses
When thinking about if you need flat contact lenses, it's important to understand how contacts work. If your eye doctor has told you that you need "flat" contact lenses, this means that your cornea is a flatter base curve than average. This does not mean that your eyes are unhealthy or abnormal. This flatness of your cornea is just a part of your normal ocular anatomy.
However, this may mean that when trialing different soft contact lenses it may take a few different tries to find the proper fitting lens. Just keep this in mind when starting the contact lens fitting process.
Are Flatter Eyes Prone to Certain Eye Issues?
Generally speaking, there are not a lot of eye issues associated with flatter-fitting eyes. We are typically more concerned with eyes that are too steep, as this can be a sign of more concerning eye issues like corneal ectasias (keratoconus, pellucid marginal degeneration, etc). 
Flatter corneal shapes can contribute to the light not being focused properly on the retina, causing blurry images to form. This can be corrected with glasses or contact lenses than can correct for refractive error.
How To Trouble Shoot Fitting Loose Soft or Flat Contact Lenses
If you have a flatter cornea and are in a lens that is too steep, you may notice that you struggle to insert or remove your soft lenses more so than you would with an adequately fitting lens. To know how to prevent this, see our article on lost soft contact lenses in the eye.
With flat contact lenses, the lens may blink out easily with insertion or have central insertion bubbles trapped under the lens. The lens will also show excessive movement on evaluation under the slit lamp. Selecting a soft lens with a flatter base curve will solve these problems seen with soft lenses that are too steep.
In contrast, a person who is fit into a soft lens that is too flat may have centration issues with the lens. Other signs of a flat-fitting lens include excessive lens movement and edge standoff. You might also experience bubbles in the periphery of the lens or excessive lens rotation. 
Which Contacts Have The Flattest Base Curves?
There are many different monthly and daily lens options available for patients with flat corneal base curves. Below are some popular options. Be sure to check Contacts Compare to make sure you get the best prices!
Monthly Flat Contact Lenses:
Soflens 38 – BC: 9.0
Acuvue Oasys with Hydraclear Plus – BC: 8.8
Acuvue Vita – BC: 8.8
Acuvue 2 – BC: 8.7
Air Optix Night & Day Aqua – BC: 8.6
Air Optix Plus HydraGlyde – BC: 8.6
Biofinity XR – BC: 8.6
Proclear Sphere – BC: 8.6
Daily Flat Contact Lenses: 
Acuvue Oasys 1 day with HydraLux – BC: 9.0
Acuvue Oasys Max 1-Day – BC: 9.0
Proclear 1 Day – BC: 8.7
Dalies AquaComfort Plus – BC: 8.7
Clariti 1 Day – BC: 8.6
Biotrue ONEday – BC: 8.6
Infuse One-Day – BC: 8.6
Specialty Flat Contact Lenses
Patients that need a flatter base curve than what is commercially available like a specialty ordered soft lens or specialty hard lens. These lenses might be a scleral lens or gas permeable lens that may be able to provide an adequate fit. 
Do Certain Doctors Specialize In Hard-To-Fit Contact Lens Patients?
Yes, many eye care practitioners are specially trained and have a lot of experience in fitting soft and hard contact lenses for hard-to-fit patients. You can ask your current eye doctor if they are comfortable with fitting specialty contact lenses. If not, ask if they have a doctor that they can refer you to. 
If you are looking for a new doctor for a complex contact lens fit, make sure you look at the doctor's credentials and what services they offer. Some doctors may be residency trained in contact lens studies or have additional training/credentialing in contact lenses.
What Causes Flat or Steep Corneas?
For the most part, corneal curvature isn't necessarily caused by any particular modifying factor. There is a suspected genetic predisposition for patients who have very steep corneas as seen in corneal ectasias. Patients who also rub their eyes a lot can cause corneal ectasias and inferior steepening due to the thinning of the cornea in this area.
Here's an image showing the difference between a normal cornea and corneal ectasias:
But in the average case, corneal curvature is not caused by anything—it is just a part of your normal corneal anatomy. 
Are There Treatments for Flat Corneas?
If your corneas are simply just a little flat in terms of corneal curvature, then you shouldn't have any long-standing issues that require specialized treatment or surgery. 
Current treatment consists of contact lenses or glasses to help patients with flat corneas see clearly.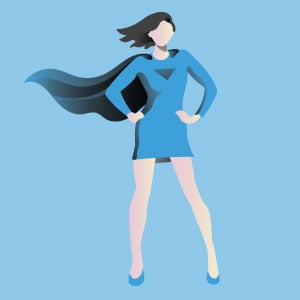 Dr. Olivia Burger, O.D. is an optometrist who graduated from the Pennsylvania College of Optometry. She is pursuing a 1-year residency at the UC Berkeley School of Optometry in Vision Science in Primary Care / Contact Lens. Her optometric areas of interest include private practice, contact lenses, and optometric service organizations such as VOSH. In her free time, she enjoys live music and is a freelance concert photographer.