The 50s are back like they never left! Cat eye sunglasses are some of the most recognizable silhouettes on the market. They are chic, fun, and classic all at the same time. Most people love this frame shape because it allows them to express a bit of style while protecting their eyes. While they are a traditionally feminine shape, there are lots of adaptations of the cat eye that anyone can wear. Let's get into the best cat eye sunglasses and how to wear them!
What are Cat Eye Sunglasses?
Cat eye sunglasses are sunglasses with a frame shape that is supposed to mimic the look of a cat's eye. If you can imagine a feline in your head, they are round at the center with diagonal points on the outer and inner corners. The goal of a cat eye sunglass is to portray a more dramatic version of this shape.
These sunglasses fall under the category of brow line frames, meaning that the heaviest part of the frame rests on the brow line. The lenses of a cat eye sunglass are traditionally round or slightly oval; however, in more recent times the lens has expanded and become uniquely shaped like the frame it occupies. The bottom of the frame is usually rounded or squared, and the upper-outer corners of the frames extend out much like a winged eyeliner.
The rest of the sunglass is fairly similar to most other frame silhouettes, leaving the outer wing to be the focal point of the look. Cat eye sunglasses also have the same function as other sunglasses. While, yes, they are a fashion statement in and of themselves, eye protection is the main function. As with any sunglass, we recommend finding a pair with 95% or above UV protection to keep harmful sunrays away from your eyes.
What Face Shapes Do Cat Eye Sunglasses Look Good On?
While there are some face shapes that the cat eye frame shape is more suited to, there are so many variations these days, that any face shape can find a great pair of cat eye sunglasses. If you read "face shape" and were immediately confused, here's a quick guide to break down what we're talking about:
For those with an oval face shape, it's a good idea to stick with cat eye sunglasses that are on the wider side. With an oval shape, the wider part of the face is towards the top, so finding a sunglass that fits that wide part without looking too small or out of place is great!
If you have a round face, super sharp lines in your sunglass frame won't be as flattering. Try to find a cat eye sunglass with soft angles. You can still choose between a more rounded shape or a squarer shape, but just keep the pointy, dramatic angles to a minimum.
Heart-shaped faces have it easy with cat eye sunglasses as they were the original face shape that the cat eye frames were made for all the way back in the 1950s! With the prominent cheekbones that this face shape has, angular cat eye sunglasses fit right in.
Square-faced individuals can offset some of the wideness of their faces by opting for a thinner, more angular cat eye shape. A narrow frame won't overwhelm your face shape and will compliment some of the angles found natural on a square face.
Best Cat Eye Sunglasses
Best Cat Eye Sunglasses for Oval Faces
Mui Mui – MU01VS
If you really want to splurge, these Mui Mui cat eye sunglasses are the perfect buy! They match the traditional cat eye look and throw in a really fun tortoise-shell print. The softer outer point is a nice way to make the overall appearance less dramatic!
Zenni Cat-Eye Glasses – 2027021
These Zenni glasses are a super wide version of the cat eye. This will help compliment the wider top part of an oval-shaped face!
Best Cat Eye Sunglasses for Round Faces
Zenni Premium Cat-Eye Sunglasses – 1117119
These subtle cat eyes made our list of the best sunglasses for the beach because of their wide coverage and fun summery look! They are also a great example of a softer version of the angular cat eye look.
Ray-Ban Cats 1000 – RB4126
With a name like 'Cats 1000' there is no doubt what frame shape these are! These large, rounded cat eye sunglasses are a high-quality pick for those with rounder faces.
Best Cat Eye Sunglasses for Heart-Shaped Faces
Vogue Eyewear – VO5211SM
This is the most classic version of the cat eye frame with the pointed outer corners and the sweeping brow line! Heart-shaped faces can pull off this traditional shape with ease.
Zenni Cat-Eye Glasses – 3226714
Talk about a classic! These Zenni sunglasses look like they walked straight out of the 50s. They are super angular and definitely a statement piece. They are super affordable as Zenni ranks high on our list of best sunglasses under $100, so you really get some bang for your buck!
Best Cat Eye Sunglasses for Square Faces
Ray-Ban Nina Sunglasses – RB4314N
These frames are more narrow than some of the ones you see above! They still give the same look as the classic cat eye, they're just a bit slimmer which suits a square face well. They come in a classic black color as well as two other multi-colored frame choices.
Ray-Ban Lady Burbank – RB2299
Ray-Ban has really nailed the narrow cat eye sunglass! This version has a more square bottom while still maintaining soft angles. Both the 'Lady Burbank' and the 'Nina' are great options for square faces.
Cat Eye Sunglasses for the Win!
Finding a sunglass shape that is so versatile that it works for every face shape is rare, but cat eye sunglasses are a great option! This sunglass silhouette has evolved far beyond the classic cat eye shape that you'd recognize from the mid-1900s. There are now a plethora of different shapes, sizes, and widths to fit and flatter all face shapes.
This type of sunglass is a super cool way to infuse some style into your everyday look all while giving your eyes the protection they deserve. If you don't already know it, find out what face shape you have and give the sunglasses on this list a go! You might end up finding your staple pair of sunglasses.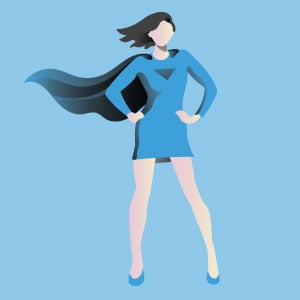 Simone is a graduate of Georgetown University and a skincare and fashion enthusiast. Her favorite skincare product is currently COSRX Advanced Snail 96 Mucin Power Essence, and her favorite sunglass brand is Ray-Ban! In addition to her passion for cosmetics and beauty, Simone loves to spend time outdoors.